Denise Milani's Cooking Video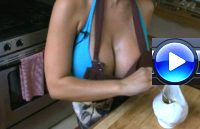 Who would've thought that watching Denise Milani cooking could be just as sexy as watching her in a skimpy bathing suit, or nude in a bathtub, or stripping out of a skirt?

Hey, when you are THE Denise Milani, you can make picking your teeth look sexy!

Denise evidently enjoys cooking. She certainly seems to be good at it, as this video shows.

As she pours, whisks, and stirs, we watch Denise's fit arms and delicate shoulders in action. Her perfect skin tone is in evidence as the cameraman zooms in on her hands, her arms, her face, even her cleavage.

And boy is there a lot of cleavage! Denise wears an apron over a shirt through the entire video, but let's just say these garmets were specially "selected" and probably even altered to show off Denise's best assets.

With the natural lighting and the zoom of the camera, there are a couple of times where we get a perfect view of Denise's big tits. You can even see the faint spiderweb of veins beneath the surface of her skin. This is not a turn-off to me, it's a sure sign that Denise's big melons are all natural and ready to be kissed and nuzzled!

If you think it was fun watching some of the member's videos of Denise on a trampoline or wrestling in a jello pit with a pornstar, you should watch her boobs when she whisks and chops! I've seen Baywatch babes running down the beach in a bikini with less boobie bounce!
BACK to Denise Milani Videos