Denise Milani's Swimming Pool Video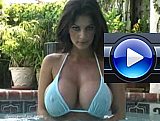 Denise Milani's "Swimming Pool" video is a long one at seven mintues. Denise has a zillion videos on her website, but this may be one of my favorites.

Make no mistake, there is but one purpose of this production: to highlight Denise Milani's tits! In the very first scene of the video, Denise is walking towards the camera with those giant boobs wobbling to-and-fro. Was it cold during this shoot? Her nipples are very prominent!

Denise enjoys lounging by the pool in the sunshine. Watching her smile and slink around is enough to warm my heart, too. The camera angles in this video are great, there are serveral times when Denise has her legs spread and we can see a very clear view of her crotch through the thin fabric of her bikini bottom.

She teases us by drizzling pool water over her golden globes, wow the sight of those big wet hooters! Again, the think wet fabric of this bikini top doesn't stand a chance against Denise's boobs. They are spilling out on both sides, with her deep cleavage in the middle, and they are even slipping out the bottom of her bikini!

As she climbs out of the pool, I'm surprised that the camera man doesn't offer his hand to help Denise. Is he a gentleman or not? Maybe he had his hands full with a big video camera, but if I were him I would've dropped that thing long ago due to falling in a trance at the sight of Denise's nearly naked body. Climbing out, we see quite a bounce and wiggle/jiggle in those boobs!

At least the dude does a good job of zooming in on Denise's ass and giving us a terrific side view of her perky nipples.

Denise playfully gets her face right up in the camera and kisses the lense. Meanwhile, we get a free peak right down her bikini top. Maybe she meant to do that?

I like it when she casually pulls her hair up into a ponytail and wrings some of the water from it. She seems so down-to-earth and real. I can just picture her doing that one day after she climbs naked from our shower... just before she hops into bed!

It took me a long time searching through all of the videos on her site, but I finally found the "unedited" member's version of this video. I was totally mesmerized when she slipped into the hot tub by the pool and untied her bikini top. She sort of covers up with the bubbles created by the water jets, but it is utterly fantastic seeing those big boobs unleashed!

Denise has been emailing her members for weeks now saying she is going to pull that particular video down off the site... "It's too risque" she says. Don't worry, I have that sucker saved on my hard drive!
BACK to Denise Milani Videos