Denise Milani's Business Trip Video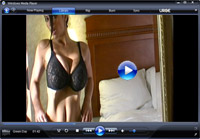 Denise's Business Trip Video is huge - almost twelve minutes long and 134mb!

In the beginning, Denise is riding in a very posh black limo wearing her business atire. She has on a crisp white blouse unbottoned to show her deep cleavage. The collar of her blouse is turned up, presenting the image of a perky college co-ed look. She arrives at the Embassy Suites Hotel (not a bad place to stay for hot Czech girls!) in grand style with her briefcase in tow. As she climbs out of the vehicle, we see that she is wearing dark, form-fitting slacks which highlight her tiny waist and firm bubble-butt. Is her rear really large enough to need a "bubble" prefix? Probably not.

She takes the elevator straight up to her room, which surprisingly is not a Presidential Suite. A girl as beautiful, talented, and personable as Denise needs the finest room a hotel can offer! The camera dallies on her bust as she walks down the hall, giving the viewer plenty to look forward to. After lying on the bed and watching TV for awhile, she treats herself to some champagne. Watch those breasts heave when she pops the cork out! It's not long before she decides to make herself a bit more comfortable, which involves a very memorable striptease.

Off comes the belt. Then she unbottons that shirt to fully reveal a lacey black bra completely overun with the size of her natural boobs. Her tiny waist and flat tummy are highlighted, much to our delight. Finally, when we don't think we can take any more, there is a close-up shot of Denise's elegant fingers slowly unbottoning and unzipping her pants. Watching her wiggle out of those tight slacks is heavenly. Ever the lingerie queen, Denise shows her long lean legs off encased in naughty black stockings. The tiny pair of black panties she reveals are almost as much of a work of art as her goddesslike body.

She finishes off her glass of champagne before performing a slow, sensual dance before the camera in her skimpy lingerie. It's interesting to note that she hsa her hair tied up in this segment, probably to help tie in the business-look with her attire. The delicate nape of her neck looks very kissable - is there a singe bodypart on this woman that is not perfect? She watches herself in the mirror as she plays with her g-string and caresses her tummy. It is nearly impossible to resist watching her crotch while she plays with her stockings and slides her hands up and down those thighs. Imagine in your mind Denise Milani wearing almost nothing, on her knees with her legs spread on the bed, rubbing her body as the sun dances across her skin. Now open your eyes and quit imagining because she gives us this gift right here in this video! The video ends with her climbing into the bed after a long hard day, her large breasts begging to be set free of the the confinement of her bra. Will we see Denise Milani nude? Not quite yet...
See more of our Denise Milani Vids