Denise Milani's Hot Tub Video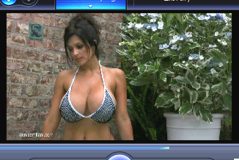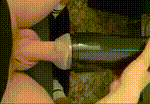 Filming her Hot Tub Video was a smart move by Denise - very entertaining! It is 86 Mb and almost 5 minutes long.

As she moves gracefully in to the water, her tiny bikini does not stand a chance at containing those enormous natural breasts. Her white bikini string makes for a stunning contrast against Denise's flawless tan skin.

As a special gift to her fans, there are a number of close-up shots of Denise Milani's huge boobs. In general, the camera angles in this video lend a sense of closeness and intimacy. While other videos, like the Business Trip Video, accomplish much the same effect, it is particularly noticeable here.

Some sections of the video show Denise in profile. Denise Milani sideboob action is always stunning!

Sometimes her breasts swing together, and sometimes they bob out of the swirling water, tantalizing us with glistening cleavage. Her beautiful brunette hair is tied back to reveal her perfect, angelic face.

We are priveledged to see Denise's pretty, soft smile several times in the video. As always, she is down to earth, sophisticated, ad graceful, yet playful. Because of her tiny waist, Denise's rear looks like a bubblebutt, and the sight of her ass wiggling playfully in her wet bikini bottoms is very alluring. An underwater glimpse of Denise's naked thighs would be appreciated, but alas, the cameraman decides to save his equipment for another day!
BACK to the Denise Milani Videos Page