Denise Milani's Window Video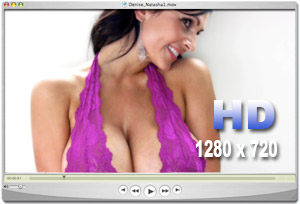 Denise Milani's recent Window Video is a perfect showcase for her incredible body.

Professionally shot with some high dollar video equipment in a big-city hotel, Denise is spectacular and stunning in nearly transparent pink lingerie. Her top is lace and open cut so that her deep cleavage and even the sides of her boobs are fully exposed, while the bottom of the outfit is composed of a sheer skirt and a tiny g-string that is pulled tightly into her crack.

Speaking of her top, early in the video the camera zooms in so close to Denise's perfect boobs that we get the full 3-D effect of those melons. We look down her chest as she squeezes her boobs together and I swear the resolution is so clear we can see every little freckle on her skin. Was that an areola I saw?

The way the light plays off Denise's nearly bare ass is very erotic. The contrast of the brightness and shadows empasizes the separation of her buttocks and just how deep her thong underwear is when it rounds the curve of her ass. As the camera pans and zooms, we also get a good look at the bulge of Denise's crotch protruding beneath her ass from behind. It's enough to take our breath away!

Denise teases us by taking the straps of her top and jiggling her unrestrained boobs. They are big and heavy and just perfect for burying your face in. Denise always comes across more sexy and sophisticated than slutty and cheap, so the smile that accompanies this busty movement is delightful as opposed to trashy.

Towards the end of the video, Denise gets very naughty. She purposely gives us an excellent upskirt view as she pivots around on the windowsill with her legs spread and her boobs dangling. Although she is wearing panties, they are skimpy ones, and we can see plenty of crotch action.

The early version of this video that was posted on her website, the one that existed before her webmaster edited it down, was even more racy. It gave a view of Denise as she pulled her top down to her waist, exposing her breasts before covering them up with her hands. It's not clear now whether she was fully in view of the camera, so I'm searching through the zillions of files on her website trying to find the unedited video!
BACK to Denise Milani Videos