Denise Milani's Wild Beach Video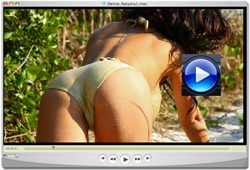 It is a real pleasure to watch Denise Milani's Wild Beach video. You just gotta love the skimpy swimsuit, the gonzo boobs, and her perfect sinful body.

As she crawls in the sand towards the camera, we have the extreme pleasure of watching Denise's big soft boobies wiggle from side to side almost as if they were totally unrestrained. The thin material of Denise's swimsuit top has a hard time keeping those melons under control!

At one point, Denise's boob pops out of her swimsuit and she tops to pull her nipple back in with a giggle.

Watching her on her hands and knees in the sand makes me think about how lovely it would be to have her crouched over me dangling those boobs in my face...

It's not just her big tits I'm watching - with those legs spread we get a good view of her crotch too. She grabs a handfull of sand and playfully rubs it into her groin. You can almost see just a hint of her lips and a little mound bulging out of her bottoms that could be her clitoris.

In this video, Denise Milani has found a little strip of beach bracketed by some grass and scrub for shade and privacy. In one of her subsequent webcam chat shows, she mentions that she felt sensual and a little devious hidden away for the shoot. She says she thought about what it would feel like to take her clothes off, lay naked on the sand with the hardness of her lover pressing down on top of her. Mmm, I love it when she talks like this!
BACK to Denise Milani Videos