Denise Milani's Trampoline Video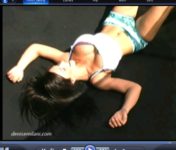 Denise Milani's trampoline video is highly erotic. It is over three minutes long, with a 43 Mb filesize. The resolution is great.

In the video, Denise is goofing around on a trampoline ala the Man Show juggy girls. She is wearing a sports bra and a tiny pair of short shorts. Her ass looks incredible in those lycra shorts. Denise looks very fit in this video. Her arms and shoulders look very toned and muscular, and her waist is as small as it has ever been

Denise's huge natural breasts are the primary focus of both the camera and the viewer during this little jaunt. As she jumps up and down on the trampoline, of course her breasts heave and bounce mightily. The little camisole and sports bra she is wearing don't stand a chance at containing the motion. At one point she tries to restrain her tits by cupping them in her hands, which is very sexy indeed!

Denise's personality really shines through as she bounces around playfully on this trampoline. But let's be honest, who can stop staring at those massive boobs long enough to pay very much attention to how down to earth she is? I emailed Denise and asked her where this was filmed at. She responded with the location in Southern California which makes sense given the beautiful backdrop.

Things get even more sexual when Denise grabs a bottle of water and pours it all over her heaving cleavage. We only thought her bra top was revealing before! She turns the trampoline jumping exercise into what is bascially a king-sized Denise Milani wet T-shirt contest! Can we just barely see the protrusion of Denise's nipples through that top?
BACK to Denise Milani Videos