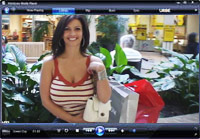 Her shopping video is six minutes and sixteen seconds long. The file size is 70.5 mb, and the resolution is an impressive 720x480 pixels. As you probably know, girls like to shop. Denise and her girlfriend took a camera with them to a local shopping mall near her home in Southern California.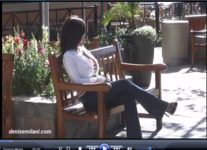 The wmv starts out with Denise driving into a parking lot in a white BMW. When she exits the car, she is looking stunning (as usual) in high heels and very tight jeans. She has on a jacket over a skimpy top, and both pull up just far enough to flash little glimpses of her underwear and her tiny waist. She is of course wearing her movie star sunglasses! Denise sits by herself on a public park bench and watches pedestrians walking by. She tends to swing her foot while she has her legs crossed, which is a sure sign of confidence... and sometimes impatience.
She waltzes into the shopping mall with her gorgeous dark hair glimmering in the sunlight and her 34DDD natural breasts begging for attention. The way her boobs bounce a bit as she struts along is enough to suggest to us that she is being naughty and possibly not wearing a bra.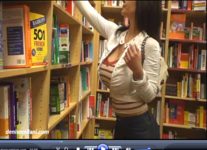 The first store she goes into is a Border's Book Store, only one of the many competitors to Amazon. As a trained physical therapist, Denise is always studying about the human body, dieting, and fitness. So naturally, she first visits the dieting and nutrition aisle. Although she looks like a goddess, only about 50% of the people that walk past her as she sits cross-legged in the floor stare at her! There are a couple of times where she looks up at the camera and gives one of her stunning smiles, clearly posing and wanting to look her best. But often she is absorbed in what she is doing. Denise was born in Europe, and she picks up a book on Italian to puruse its contents.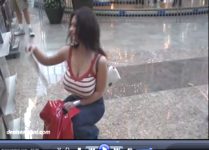 Leaving the store, Denise rides up an escalator, and we get a great look at her perfect ass. The tanktop she has on shows tons of cleavage, leaving us eager for more. Guys are staring at her as she moves along, and at times she seems a bit shy. But she is also playful, sticking her sexy tongue out at the camera and making crazy faces.
She swings through Bath & Body, and (luckily for us) on into a Frederick's of Hollywood lingerie store. If there is one thing sure to please, it's Denise Milani on the loose in the lingerie shop! Out she comes an hour later carrying several bags of bras, panties, and garter belts. She must've worn herself out sifting through all that erotic lingerie since she exits wearing only her tanktop. Presumably her friend with the camera is holding onto her jacket, or perhaps she has placed it in the shopping bag.
When she bends over to check out some calendars at a kiosk in the mall, her boobs nearly spilling out giving most of us fluttering hearts if not complete coronaries. On to the Bebe store, and a long hour in Nordstroms. Denise truly likes to shop! She settles down on a ledge to rest and she is all smiles - why wouldn't she be happy, she's added a Nordstom bag to her goodies! She plays with her hair, looking hotter than ever.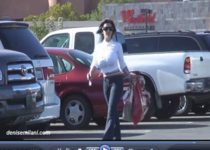 As she walks out of the mall, she is talking to a friend on her cellphone. Unfortunately, she has squeezed back into her tight jacket. We follow her across the parking lot as she walks to her car, and it's funny to watch how many vehicles stop to let her cross - all eyes on Denise! she places her packages in the trunk of the BMW, waves bye to the camera, and is off! She ends the shopping video with an invitation to the viewer to go with her next time.