Denise Milani's Purple Dress video is a delicious exploitation of white sand beaches, clear blue water, and a soppy wet dress with no underwear!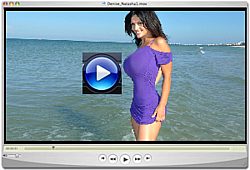 Her incredible curves are devastating to her sexy bra, and once it gets wet it simply gives up. She oohs, ahs, poses and turns, but once she gets soaked the bra comes off in a pile of wet satin.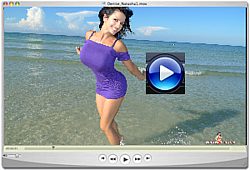 What the heck, why not take off that little g-string too? Is there anybody on the beach to see? Nah, just us perverts - I mean fans- sitting here at our computers with our moths open stunned by your audacity Denise.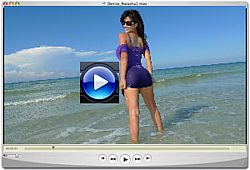 The cleavage gets deep when Denise squeezes her sandy, wet boobs together and smiles. What could go between these?? She seems to think. Hmmm, would you like to bury your face in these boobs or something else?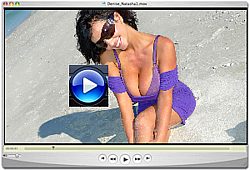 Although it may have been removed from her website by now, the original poorly edited video included and accidental slip where Denise show more from a rear view than she intended. What's that hanging down from your crotch, lovely Denise?