Denise Milani's Nude Outdoors Video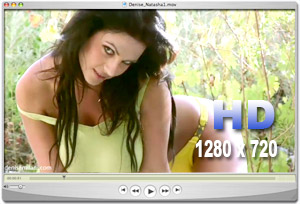 Ahhh, yes: another fantastic High Definition movie by Denise Milani! Similar to many of her other outdoor videos (the Bearcreek video is probably the most famous), Denise avoided the studio for this production in favor of the great outdoors.

Denise wears a green tanktop in this video with no bra. It's apparent that she is becoming more and more comfortable showing us her nipples. The temperatures were in the 100's during the shoot according to the journal entry she posted in the member's section of her website. Her tanktop was soaked with her sweat and was bascially transparent, giving all of us an eyefull of her busty chest.

Denise clambers around on some sharp looking rocks, which made me fear just a bit for her safety. It's not like she was wearing kneepads and a helmet - she is practically nude. Her perfect skin really glows in the sunlight, and as she rubs herself and moves and poses, it is very erotic.

I have to admit, although Denise looks sexier in this video than any time I can remember in the recent past, I was not impressed by the video editing. It seems to jump around a bit chronilogically. No fault of Denise's, she is doing what she does best!




Denise sort of gives us a taste of what is to come when she gets on all fours and lets those big boobs dangle into a tantalizing display of womanly parts. She is so sexy in this movie because of her facial expressions. She is less posed and playful and actually looks more "intense". This is the Denise Milani I would like to see in bed! She teases her nipples until they stand at attention underneath the thin fabric of her wet tanktop, and pets her crotch as she toys with her underwear and tugs it down on her hips.

When Denise bends over and the camera zooms in on her perfect ass, she tugs the panties up into her crack, which is just breathtaking.

Towards the end of the full-lenth video, we see a bit more odd editing when it looks like Denise is getting dressed. She has a towel hung up over a branch for a bit of privacy and is stripping out of the wet tanktop and panties. We can almost glimpse her bare breasts and get a pretty good view of her sweaty backside. I was surprised to see Denise putting on a pair of athletic shorts with no underwear! What a naughty girl Denise! Some moron in her member's section made a post or sent her an email about this scene that was probably supposed to be edited out of the file. There was quite an uproar, and it sounds like Denise is going to ask her webmaster to edit the scene out.

That would be a shame, if there's one thing we delight in it's seeing Denise Milani nude!
BACK to Denise Milani Videos