Denise Milani's Detective D video is a departure from Denise's normal glamour scene. It's a little campy in that Denise is playing the role of a busty Private Detective hot on the trail of a sexualized suspect. Don't worry, there are still plenty of boobs involved!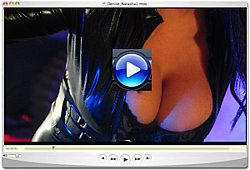 In the video, Denise is wearing a shiny pvc suit made out of thin material stretched to its very limits by her curvy figure. She only spends about 5 seconds with the zipper all the way up. Then - you guessed it - she pulls it down to her waist to reveal a pair of sweaty, perfumed boobs encased in a see-through black lace push-up bra.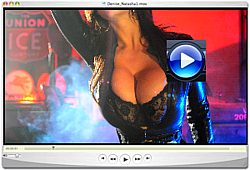 This sweaty theme is common, so it must've been hot on the set in this rubber sex suit. Before long, Denise bends over and sticks her perky butt up in the air only to reaveal a scadulous sweat stain at her bum and crotch. I can't imagine how difficult it would be to peel this super-tight uniform off of Detective Denise, but we do get to see this experiment.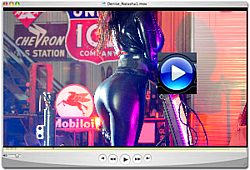 After swinging a heavy flashlight around over her head, threatening to send her boobs flying free, Denise begins to disrobe. We can hear the squelch of the rubber against her skin, and I start thinking about whether she is wearing a tiny black g-string with a sweaty sheer crotch under her pants...