Denise Milani's new Villa Terrace video is fantastic. It is shot in front of an azure-blue, crystal clear ocean. She looks great, and is dressed very provocatively.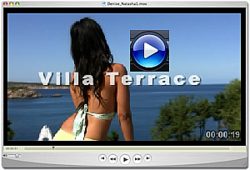 _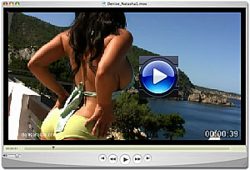 The green shorts she wears slip playfully right up into her asscrack. They hug the perky globes of her buttocks in a way that is most erotic. The loose satin top she wears allows her big breasts to move naturally. The thin shiny material lets us see the outline of her nipples, which are aroused and hardened by the gentle breeze blowing off the ocean.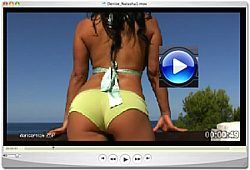 _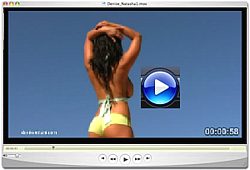 Denise sits down and crosses her legs, flashing a view of her flourescent shorts pulled tight to her crotch reminiscent of the popular Sharon Stone scene in Basic Instinct. She throws her head back as the sun bakes down on her glowing skin and gently moves her hands over her body, caressing her breasts, her tummy, her thighs. Her skin looks perfect in the direct sunlight.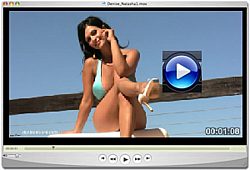 _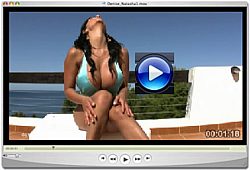 Eventually sh lays down, and we see her boobs squash down to form two soft pillows. She plays with her top and jiggles her breasts, as much trying to move them back into place as trying to entertain and arouse us. As she stretches out on the lounge chair, her magnificent legs flash with muscle and her high heels strain her calf muscles into a beautiful display.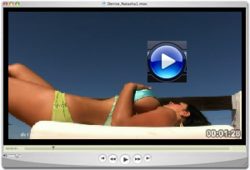 _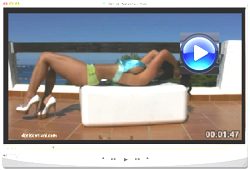 With her boobs in disarray, Denise sits back up and adjusts her top. The tiny, stretch shorts pull even further up into her ass if that is possible! She reties the makeshift top, for a few minutes her back and the side of her bare breast are visible to us.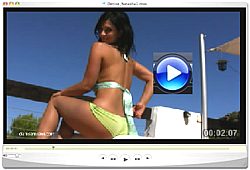 _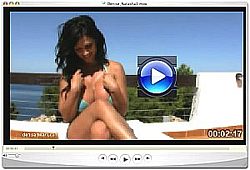 And then... she kicks it into overdrive. On all fours, Denise let's her boobs sway as she rocks back and forth. The camera pans around to show us an incredible close-up of her exposed butt. If you think that flimsy top will be able to contain her breasts as the music reashes a crescendo, well perhaps you should visit her site to find out for sure :)