Denise Milani's latest video is shot in the dark of night in an empty, delapidated swimming pool. In fine form, Denise appears out of the dark in a tiny pair of panties and a thin cotton tanktop that has no hope of keeping her unrestrained boobs contained.
She pours water over her body, drenching her hair, her shirt, and her underwear. To our delight, everything immediately turns see-through and transparent!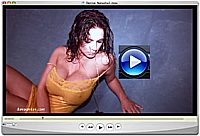 Not happy with just making us ache with longing, Denise asks... "Who wants to see my nipples stand up?" She tweaks her nipples until they are standing at full attention beneath the sopping wet fabric, groaning with pleasure and smiling a wicked smile we've rarely seen on beautiful demure Denise.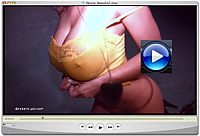 Denise pulls the wet tanktop up slowly to reveal the glowing globes of her buttocks. Her skin is just barely red and irritated from slinking around on the rough concrete of the swimming pool. That's okay, I would gladly rub lotion all over Denise's ass!
Denise carefully runs her finger underneath the thong, repositioning it perfectly over her pretty bunghole. "I wouldn't want to get chafed!" laughs Denise.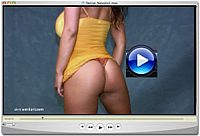 Denise finishes up the HD video on her hands and knees in classis Denise Doggie-Style position. Her boobs strain at the fabric of her top, and we can see down her shirt nearly to her belly button. With her pretty g-string ass poked up in the air to tantalize us, we are left wondering what this new naughtier Denise does with her fingers once the lights go dim...