In her Diamond video, we see Denise Milani at her best. Quiet, serene, sensual. She is in a high-rise hotel room overlooking the ocean. She is all alone, wearing sexy red lingerie. Her hair and makeup are perfect, angelic. And her jewelry, well, she has on enormous diamonds of course.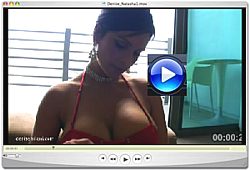 Her lace-up bustier is helpless in containing those massive melons. The laces are stretched to the max, and she frequently pulls up on the strap while shifting her breasts around with her other hand. She has to work hard to keep her boobs from spilling right out of the top.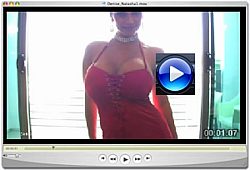 She coily hides behind the drapes, and we get a full-on, up-cloe view of her ass. Her satin lingerie has ridden up a little high on her thighs, and the view from behind is breathtaking. Does she have on a little tiny g-string under there? It's hard to tell. Her buttocks are so round and full, and appear soft to the touch.
She rests on the edge of the bed. Sitting on the floor, she leans over and gives us a view down her top. So much cleavage! Her neck looks so tender and ready for kisses, her boobs so exposed and ready for tender touches.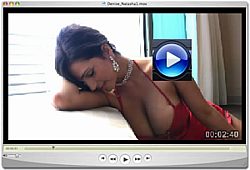 Denise finishes up the video on the floor. She spreads her legs and carresses her tummy. Her soft boobs spill outwards and upwards, ready to be squashed against her delicate ribcage by a hungry man. I can almost smell the perfume in the room, the very esence of Denise...