Denise Milani's Bra Fitting Video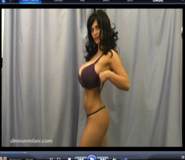 As you can guess, Denise Milani's Bra Fitting Video shows that an erotic experience can be made of trying on lingerie! The video is 39 Mb and just over 4 minutes long.

Thankfully, there are plenty of close-ups of Denise's toned ass wearing only a tiny g-string.

Denise starts out her bra fitting session with a burgundy bra, and before you know it she's wearing a white lace bra. She has fun jiggling her boobs like a "Juggy" on the popular Man Show. She playfully pulls her bra straps down off her shoulders and massages her breasts through the lace bra cups.

She tugs at the sides of her panties and twirls around to give us that great profile view - her boobs are so big and her waist is so tiny! She comes out next in a nearly sheer bra that is made to squeeze her massive cleavage together.

The tan-colored lace bra is next, and it helps to emphasize the bronze glow of Denise's perfect skin. She shakes her hips a few times to the music, then reappears in a red lace bra. She gets very close to the camera at one point and practically puts the lens down between her soft tits. Big smile!

The deep plunge bra she models next is made of very thin white material. It does not stand a chance against Denise Milani's nipples! They appear to be quite large, prominent, and erect. Perhaps Denise's nipples are in a state of excitement? One has to wonder if she gets turned on as she goes backstage and slips into frilly pieces of lingerie. Is the crotch of her tiny g-string damp with her juices? Is the flush in her face more than just make-up? A movie of Denise Milani masturbating would be quite a hit!

Denise repeatedly adjusts her bra, wiggling her breasts around beneath the fabric. She hikes her panties up higher on her hips, pulling the thin fabric up into the crack of her ass.

The front hook on the bra proves to be an irresistable temptation to naughty Denise, and as the bra fitting movie draws to a close, she unhooks it! Finally, Denise Milani topless! What a beautiful braless model...
BACK to the Denise Videos Page