Denise Milani's bookshelf video is one of her more playful ones. She is in her home and standing in lingerie as soon as the video starts. Her frily polka-dot bra is stretched to the very limit. Lots of soft, bound-up cleavage everywhere.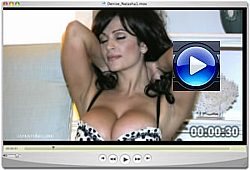 The premise of the video is we get to watch Denise stretch up to pull things off the bookshelf. This is like Man Show gone wild. Denise turns around to reveal a super-tight pair of matching polka-dot panties. When she reaches to the upper shelf, she reveals the graceful arch of her back, her skinny waist, and that full sensous bottom.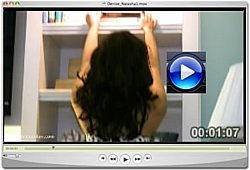 Densie also plays around in the floor, wiggling her but around and giggling. She has so much fun during these sexy video shoots! She slides a finger around the rim of her panties and plays with her hair. She grabs a feather duster and slowly trails it up the inside of her thigh.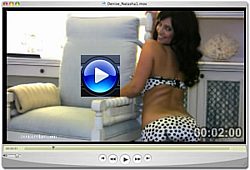 She gets down on her knees, spreading her legs and hugging her boobs. She unhooks her bra strap and lets the ends droop down to her waist. She lightly tickles the upper reaches of her breasts with those crimson red fingernails, and tweaks her nipples through the loose material of the bra. Wow, her boobs have never looked bigger.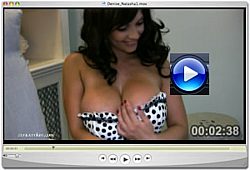 Then she drops the bra in the floor, allowing her boobs to swing free. Mmm, just what we've been waiting for, a topless Denise Milani, right? Unfortunately, she playfully keeps the bottom of her boobs just below the camera line as she wiggles and plays. She covers up her nipples with her hands when she stoops to put her bra back on. The video continues!