Denise Milani's Black Dress Video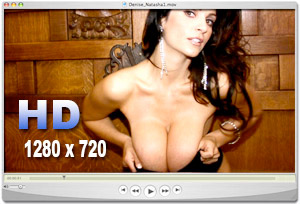 Denise Milani's mind-blowing Black Dress Video shows off her big natural boobs. As she has done with most of her videos lately, this one was shot in stunning High Definition (1280x720)!

Denise's black dress has a soft, velvety look to it and it makes her look sultry and sophisticated. She has no qualms about pulling the dress up to show what's underneath it. With her fancing dangling earrings, perfect makeup, and glossy hair, Denise looks like a million bucks in this video.

And When Denise gets naughty and slides that skirt up those silky smooth thighs, the tiny black g-string she is wearing is a delicious surprise! Seeing the globes of her buttocks flex and twitch as she dances around is highly arousing. Her panties ride high on her hips but dip very low over her tummy and appear to be sheer in the crotch area. You better believe I had that video blown up to full-screen!

She runs her hands down her ass, giving it an occasional playful slap, and then tweaks her performance up a notch when she slides her fingertips into the crack of her ass...

Denise has a terrible time trying to keep her big boobs contained in the tight dress. Well, it's terrible for her, and wonderful for us as her breasts quiver and bounce. At one point she has to grab them with her hands and very sensually stuffs them back into her top. Her cleavage looks so deep and soft, I would love to slide something special between her boobs and show her how much I love her! Denise ends up on the floor, with the dress kiked up over her ass and her tits dangling as she gyrates.

Denise likes on her back in her expensive outfit and then spreads her legs with a look on her face like... "Would you like a nibble of this?" The camera zooms in and we get some really tantalizing upskirt views of her pouty lips in that thin pair of g-string panties.

Denise drives me crazy when at the end of the video, she grabs her ass in both hands and sort of spreads her buttcheeks. You can tell that Denise is sort of a upstanding young lady who sometimes gets turned on and goes a little wild. Sometimes she apologizes on her website for getting a little crazy in her photo and videos shoots, but most of us email her and tell her to get as wild as she dares!
BACK to Denise Milani Videos